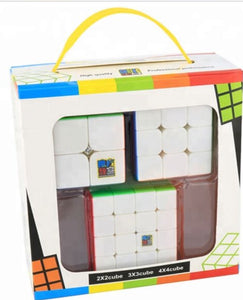 Productbeschrijving
Ben jij een beginner, een gevorderde of een expert in het oplossen van deze breinbreker? Deze set is geschikt voor alle 3!


Oefen je behendigheid, snelheid en logica door deze puzzle's zo snel mogelijk op te lossen. Erg leerzaam voor kinderen.
Soepel in gebruik. Geen stickers die loslaten, of valsspelen mogelijk maken.

Deze set bestaat uit 3 verschillende draai kubussen. De 2x2x, 3x3 en de 4x4 uitvoering. Verpakt in een gift box.